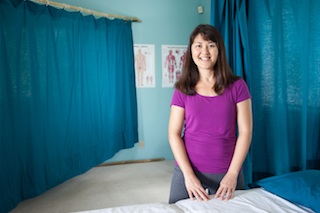 Bonnie Lynn Hōkūlani Henshaw, LMT is a native of the Big Island and has held a State of Hawaii massage license since 1996. She is a graduate of Kona's Center for Muscular Massage and has been teaching massage since 2009. Bonnie is passionate about sharing her knowledge with new generations of massage therapists, to help clients feel better and help therapists become successful in a rewarding career.
Bonnie served as Principal Massage Therapist on the Hamakua Coast, after over 11 years as a massage therapist at the Hilton Waikoloa Village.
What We Do
Since 2011, Hōkūlani Massage Academy has been spreading the benefits of therapeutic massage for clients and new therapists alike.
Therapists will find easy-to-understand classes, with repetition, visual aids, and hands-on learning. Our quality instruction reaches from beginning concepts, to pre-licensing, all the way through advanced and professional techniques. Our instruction is approved by the State of Hawaii. Transfer students and casual students are welcome!
Clients will find rejuvenating and therapeutic massage services, perfect for improving a vacation, a special event, or just daily life. Clients may choose to receive their massage from either a student or a professional therapist. As a show of thanks for helping our students with their education, we offer student massages at reduced prices.